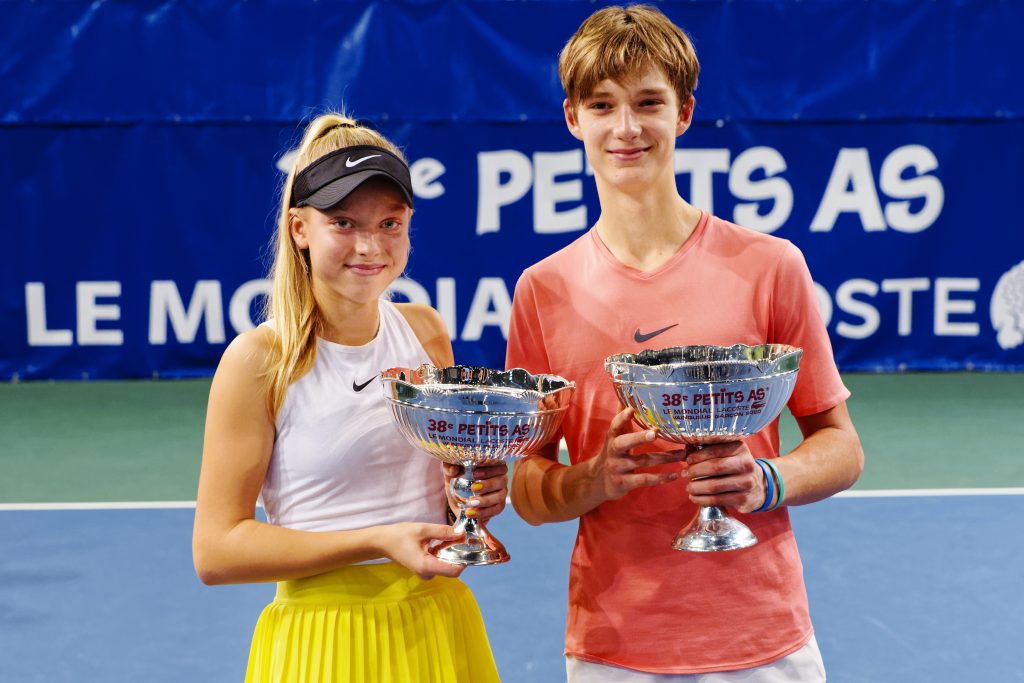 Ponomar & Fruhvirtova, 2020 champions
It's over. The singles finals have ended this 38th edition of Les Petits As – Le Mondial Lacoste. Oleksandr Ponomar and Brenda Fruhvirtova are the new Little Aces!
Oleksandr Ponomar, first Ukrainian boy to lift the trophy
Oleksandr Ponomar is the 2020 Les Petits As – Le Mondial Lacoste champion. After a 1st round easily won against Charlie Camus (6/2, 6/1), he needed to fight during 3 sets face to Fadi Bidan (3/6, 6/4, 6/4) and Gur Trakhtenberg (6/1, 5/7, 6/1). Then, from the quarterfinals to his final victory, he didn't lose any set against Federico Cina (6/2, 6/0), Atakan Karahan – seed #1 – (7/6, 7/5) and Jannis Simmen (6/4, 6/1).
N.B. The 100% USA Playoffs Lacoste team composed by Lee and Razeghi has won the tournament against Garcia Paez/Ghetu (6/4, 6/2)
Brenda Fruhrirtova, on her sister's footsteps
The young Czech has kept the Fruhvirtova's family hand on the trophy, succeeding to her sister Linda on the prize-list. After 3 rounds perfectly mastered against Nyangon (6/1, 6/1), Shoukry (7/5, 6/2), and Oluwadare (6/3, 6/0). In quarterfinal, she had a really tough match against the French girl Iliev, supported by the whole crowd (6/7, 6/3, 6/3). After another good victory in semifinal against Read (6/1, 7/5), she had to fight very hard to defeat in final Clervie Ngounoue – member of the Mouratoglou Academy with Brenda – (6/0, 3/6, 7/5).
 N.B The 100% USA Playoffs Lacoste team Ngounoue/Olson has defeated in the doubles final, the 100% Asia Playoffs Lacoste team Saito/Koike (6/1, 6/4).